V&H Automotive Offers 2020 Jeep Cherokees for Sale
If you need a safe, sporty compact SUV, you will be thrilled with V&H Automotive's selection of 2020 Jeep Cherokees in Marshfield, WI. The Cherokee has been a staple in Jeep's lineup for years, and the manufacturer has outdone itself again with a luxurious new edition. The team at V&H Automotive is excited to explain the amenities and capabilities the latest Jeep Cherokee has to offer. Our auto dealership has been serving customers from throughout Central Wisconsin for more than 50 years, so you can rest assured we will confidently highlight the bells and whistles that are most pertinent to you. If you have plans to go off-roading for weekend camping trips, we will showcase how the 2020 Jeep Cherokee handles rugged terrain. If you are a technology lover, our team will share the many perks of the model's intuitive infotainment system. We are just a short drive from Medford, Stevens Point, Wausau, Wisconsin Rapids, and beyond, so stop by today to learn more.
The 2020 Jeep Cherokee Can Handle Off-RoadingStyle
For 2020, Jeep unveiled five models in its Cherokee lineup. While they all perform well in off-roading scenarios, the star of this class is the Trailhawk. It features a 3.2L V6 engine, a dirt-ready suspension, and standard all-wheel-drive system to ensure your ride is as smooth as possible regardless of the terrain. The 2020 Jeep Cherokee outpaces its competition when the blacktop ends.


The Cherokee's Engine Also Performs Well Around Town
We recognize that most of your driving will not be on trails and dirt roads. The majority of your time spent behind the wheel will be on trips to and from the store, family outings, or weekend getaways. The 2020 Jeep Cherokee has several engine options that all perform well whether your travels take you to the local grocery store or a Packers game in Green Bay. The base engine is a reliable four-cylinder model with 180 horsepower, but you can also opt for a turbocharged four-cylinder or a V6 engine for added versatility and quicker acceleration.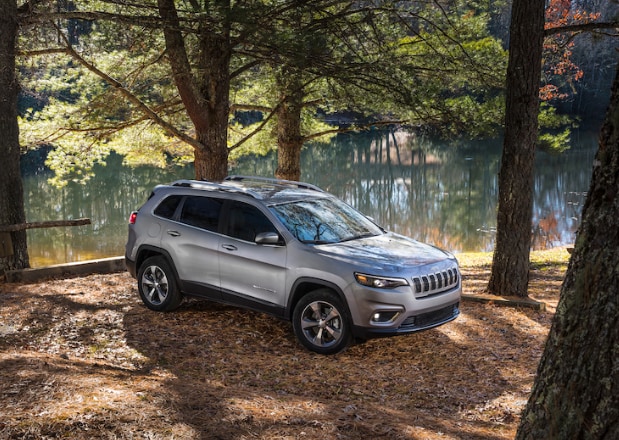 Jeep's Infotainment System is Among the Best in the Industry
Jeep is well-known for offering one of the best infotainment systems in the car industry. The 2020 Jeep Cherokee comes with Uconnect and a seven-inch touchscreen that makes all technology features convenient and easy to use.  You will be able to connect your phone to the Jeep's Bluetooth system using Apple CarPlay or Android Auto so that you can enjoy hands-free calling or music streaming as you drive. Other available entertainment and technology features for this compact SUV include a navigation system, USB ports, satellite radio, and a panoramic sunroof.
The 2020 Jeep Cherokee is a Top Safety Pick
Any time you get behind the wheel of your vehicle, you want peace of mind that it offers protection in the case of an accident. The 2020 Jeep Cherokee provides that confidence. It was named a 2019 IIHS (Insurance Institute for Highway Safety) Top Safety Pick because of its durability and abundance of safety features. It also performed well in National Highway Traffic Safety Administration (NHTSA) testing, including receiving five out of five stars in side crash tests.
The Jeep Cherokee performs well in testing for many reasons. Not only does it have a high-strength steel frame to protect passengers during collisions, but it also has the most airbags for a vehicle in its class. But the available driver-assistance features also do wonders to distinguish the Jeep Cherokee from its competitors. It offers blind-spot monitoring, rear cross-path detection, full-speed forward collision warning with active braking, a Lanesense® lane departure warning system, and much more. Let the knowledgeable associates at V&H Automotive describe the myriad safety features when you visit our auto dealership in Marshfield, WI.
Visit V&H Automotive for a 2020 Jeep Cherokee Today
Compact SUVs are among the most popular types of vehicles on the market. They are ideal for young professionals and small families because of their size, sleek appearance, and amenities. Near the top of the class is the 2020 Jeep Cherokee. V&H Automotive is proud to offer this fine automobile at our dealership in Marshfield, WI. When you are ready to upgrade your vehicle, let us help. Contact us or visit to test drive the new Jeep Cherokee today.
Make an Inquiry